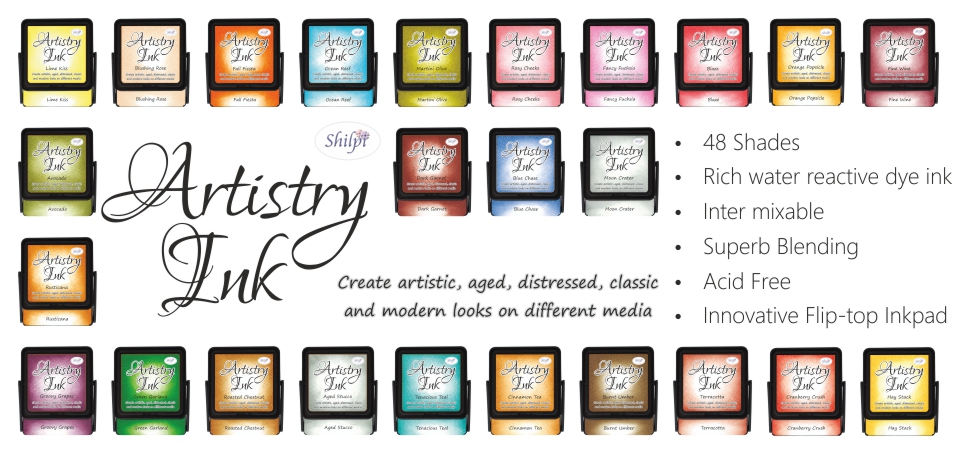 Newly designed stamp pads with rich dye inks. Innovative flip-top design with convenient storage for blending foam. One of the nation's leading manufacturers and distributors of quality craft products, introduces the next generation of stamp pads, featuring a revolutionary, patent-pending stamp pad design combined with quality unlike anything else in the industry. Special rich dye ink are water reactive inks that allows you to play with them in different ways like blending, distressing, splashing, spraying, brayering and many more. The craftsmanship, convenience and professional results of Artistry line of dye ink pads are now available in 48 exclusive shades.
The Artistry Pad feature an innovative flip-top design that stores the inking surface upside-down, so the pad stays juicy longer. For easier access, the raised stamping surface is presented. This is also the perfect pad for discerning crafters who love to watercolor. The top-quality plastic case is flexible, so the lid can be pressed into the ink pad, forming a watercolor-type pallet to dip a brush into the little pool of ink created in the lid. In addition, each pad has a colored label, identifying the name of the stamp pad and the color. Colored label is visible even when pad is open, so you know the color even if you've multiple pads open on your craft desk.
Also, available are accessories like Blending Tool, Blending Foam and Craft Sheet to get you started with Artistry Ink range.